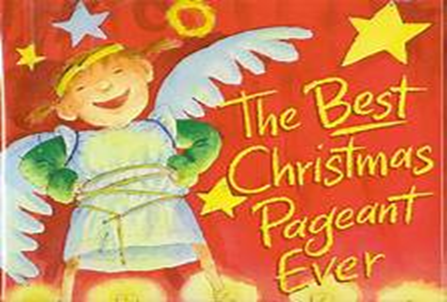 ANNOUNCING THE GLEN LAKE COMMUNITY SCHOOLS FALL THEATER PRODUCTION!!!
"The Best Christmas Pageant Ever!" By Barbara Robinson
In this hilarious Christmas classic, a couple struggling to put on a church Christmas pageant is faced with casting the Herdman kids--probably the most inventively awful kids in history. You won't believe the mayhem - and the fun - when the Herdmans collide with the Christmas story head on!
This delightful comedy is adapted from the best-selling Young Adult book and has become a holiday staple for groups across the United States! Features plenty of great roles for students of all ages, a few favorite Christmas Carols, and a lot of laughs!
Important dates at a glance:
Auditions=9/21-23
Rehearsals=9/26-11/19
Tech Week=12/5-7 (times tbd)
Show dates=12/8-11 (doors open at 7:00. Show time 7:30.)
Set Breakdown/Clean up=12/12-10 AM to 6 PM (estimated times. All cast expected to attend)
(All rehearsal 3:30-6:00 Tues, Wed, Thurs in the Auditeria unless otherwise specified)
AUDITIONING:
Glen Lake students from the 4th - 12th grades are invited to come try out for a role in this fall's play, "The Best Christmas Pageant Ever". Auditions are from 3:30-6:00 in the Auditeria Tuesday, Wednesday, and Thursday, September 21,22, and 23.
Come to auditions in comfortable clothing that will allow you to move easily. Bring a pencil, a snack and water. We will be reading from the script, playing some theater games, and looking for energy and focus. Students interested in offstage technical positions should come to auditions as well.
Theatre is the ultimate team activity: Instead of working against an opponent, you are working together with a huge team that includes actors, directors, producers, costumers, set designers, lighting and sound designers, lighting board operators, soundboard operators, prop masters, ticket takers, concessionaires, everyone in the whole audience, and they are all pulling in the same direction; they all want to see a great show! It's collaboration instead of competition, it's a great way to get to know people, and a lot of fun.
Current covid restrictions will be in force during all meetings.
Please feel free to contact Bill Dungjen (director) or Alicia Romzek (producer) at DungjenB@mylakers.org with any questions.
Parents are welcome and needed to make a show run well, please get involved if your child is cast, we can use all the help we can get!